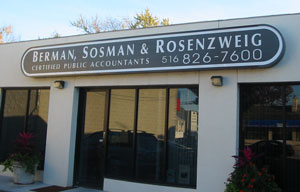 Berman, Sosman & Rosenzweig, CPAs PLLC. is an accounting, tax and consulting firm, servicing the needs of a large diversified client base.
Barry Berman, C.P.A., the founding partner, began his practice in 1974, Richard Sosman, C.P.A., whose practice began in 1989 merged into the firm in 1997 and David Rosenzweig C.P.A., joined the firm and merged his practice into the firm in 1998.
Each of their professional and individual reputations have firmly established the firm's reputation amongst clients, attorneys, credit grantors, investment managers, and insurance companies.
The firm's clients range from individual tax returns to audited financial statements of $100 million companies. Both type of clients require competence, professionalism, and attention, all of which are provided caringly by our partners and staff.
We welcome any questions or comments you may have. Feel free to contact us at any time:
Telephone...
(516) 826-7600
Berman, Sosman & Rosenzweig, CPAs, PLLC
30 Jericho Executive Plaza
Jericho, NY 11753
You can also send us a message directly through the contact page of this website.