About Our Firm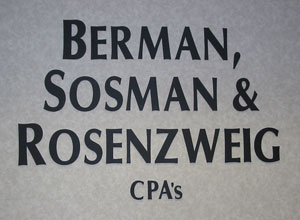 Berman, Sosman & Rosenzweig, CPAs PLLC. is committed to your success. We make it our business to know your business well enough to improve your tax position, capital position, business structure, benefits packages, acquisition potential, and much more. We earn our fees by adding value to your company and to your asset base. We have learned a great deal since we began in this business, and we are ready to apply this knowledge to enhance your company's growth and success. Together we can conquer all of the intricacies of doing business in today's fast-paced economy. We are looking forward to working with you.
Our firm provides our clients with the attention and answers that each client expects, regardless of size. We are proactive professionals who focuses our clients' attention on unforseen problems before they occur, and are reactive to our clients' unforseen problems. Our growth is a testament to our clients who show their confidence in us by recommending us to others. Our work does not end when a tax return is completed. We service our clients all year by being COMPETENT in what we do, being responsive and COMMUNICATING with our clients, providing our clients with the assurance of being COMPLIANT while being CREATIVE with our proper planning, and always showing our clients that we CARE.
Our Mission
Our mission is to help clients maintain financial viability in the present, while taking a proactive approach to achieve future goals. This requires open communication to reach an understanding of our clients' needs through research and sound analysis. Berman, Sosman & Rosenzweig, CPAs, PLLC is dedicated to meeting these goals with high standards of excellence and professionalism. We have been a staple of the area's business community for years, and pride ourselves on the level of esteem we have earned.
Our dedication to hard work has earned the respect of the business and financial community in and around the area. We believe this to be a direct derivative of our talent and responsiveness to our client base. Whether you are a current or prospective client, rest assured that individuals and businesses who choose Berman, Sosman & Rosenzweig, CPAs, PLLC receive competent and timely advice.
Our Team